If I had some sort of application process in getting a man, this would be in the criteria for sure...
Must love dogs.
I have always been a dog lover. I grew up with dogs of all shapes and sizes - Spitz, St. Bernard, Pug. I find that having a dog is the best end to a stressful day. They are always so enthusiastic and excited to see you that even if you've had a crap day at work and almost killed someone while driving home, you feel all your tension wash away as you're greeted by a furry family member.
Meeko
is the first pug I have ever owned. In fact, she is the first dog I ever had here in Melbourne so she is quite special. Not only that, Arnie and I consider her as our first child. She knows that we're mum and dad, while
grand mum
and grand dad are my mum and stepfather. She's nuts. She knows she's loved and she loves the fact the she's spoilt rotten.
In case you're asking, Arnie has passed this qualification with flying colours. In fact, I think
Meeko
loves him more than I. I don't mind, really. She is daddy's little girl :)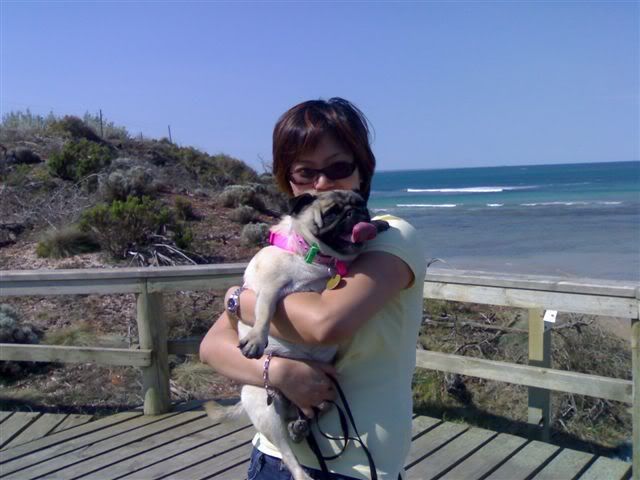 Arnie took us to

Torquay

for the weekend.

Meeko

enjoyed the sun, surf, and ice cream :)